My Blog
Posts for: March, 2018
By Bethesda Row Dental
March 28, 2018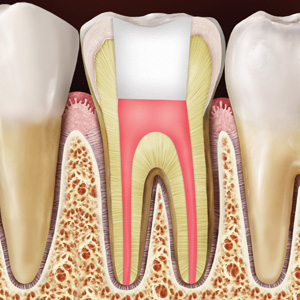 One of the most effective techniques for saving decayed or injured teeth is the root canal treatment. Yet when many people hear they need it, they become nervous at the prospect.
Much of this stems from a common misunderstanding that undergoing a root canal is painful. It's not — today's anesthetics are quite effective in numbing pain during a procedure, and mild pain relievers like ibuprofen are usually sufficient to manage any discomfort afterwards.
In fact, a root canal treatment relieves pain caused by decay within a tooth. As decay progresses, it can enter the interior known as the pulp, which contains bundles of nerves and blood vessels. It attacks these nerves causing pain and infection. If the infection progresses through passageways known as root canals that are in the roots of the tooth, the pain can intensify. More important, the tooth is in danger of loss as the root and connective tissues that hold the tooth in place are injured from the spreading infection.
During a root canal treatment, we access the pulp by drilling a small access hole, usually in the biting surface or in the rear of a front tooth. Once we enter the pulp chamber we remove all the contaminated tissue. Once thoroughly cleansed, we fill the empty chamber and canals with a special filling (usually gutta percha) to prevent future infection. The access hole is then sealed and at a subsequent visit we strongly recommend placing a permanent crown to provide further protection from damage to the tooth.
Root canal treatments are quite common. All general dentists have been trained in endodontic treatment and can perform most types of procedures. More difficult cases (like a complex root canal network that may be hard to access) may require the services of an endodontist, a specialist in root canals. Endodontists use advanced techniques and specialized microscopic equipment to treat complicated situations.
It's actually good news if we recommend you undergo a root canal treatment — it means your tooth has a good chance of survival once it's disinfected and the decay is removed. But don't delay: the sooner we can treat your tooth, the better your chances of a healthy outcome.
If you would like more information on root canal treatment, please contact us or schedule an appointment for a consultation. You can also learn more about this topic by reading the Dear Doctor magazine article "Common Concerns about Root Canal Treatment."
By Bethesda Row Dental
March 13, 2018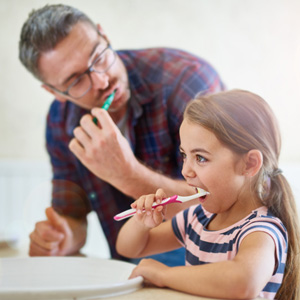 Philosopher Will Durant wrote, "…We are what we repeatedly do. Excellence, then, is not an act but a habit." While that observation could aptly apply to a great deal of life, it's certainly true of dental health. Strong, healthy teeth and gums are largely the result of good oral habits started in early childhood.
Here are some important dental care habits you'll want to instill in your child, as well as yourself.
Practice and teach daily oral hygiene. Keeping your child's mouth clean helps prevent future dental disease. It should begin before teeth appear by wiping your baby's gums with a clean, wet cloth after every feeding to keep decay-causing bacteria from growing. Once teeth appear, switch to brushing with just a smear of toothpaste until age 2, when you can increase to a pea-sized amount. As your child matures, be sure to teach them to brush and floss for themselves, especially by modeling the behavior for them.
Begin dental visits early. Besides daily hygiene, regular professional dental care is one of the best habits for keeping healthy teeth and gums. Plan to begin your child's dental visits by age 1 when some of their teeth may have already come in. And by beginning early, it's more likely your child will view dental visits as a routine part of life, a habit they'll more likely continue into adulthood.
Keep your oral bacteria to yourself. Many strains of bacteria, especially harmful ones, don't occur spontaneously in a child's mouth. They come from the outside environment, most often from their parents or caregivers. To avoid transmitting disease-causing bacteria from you to your baby don't share eating utensils, don't lick a pacifier to clean it, and avoid kissing infants (whose immune systems are immature) on the mouth.
Encourage your teenager to avoid bad habits. Hopefully when your children reach adolescence, they've already developed good oral habits. But there are some bad habits you should also help your teen avoid. While piercings are a popular expression among this age group, teens should avoid tongue and lip bolts and other piercings that could damage teeth. A tobacco habit can also have negative consequences for dental health including increased decay or gum disease risk and cancer.
If you would like more information on dental care for children, please contact us or schedule an appointment for a consultation. You can also learn more about this topic by reading the Dear Doctor magazine article "Dentistry & Oral Health for Children."