My Blog
Posts for: April, 2015
By Bethesda Row Dental
April 22, 2015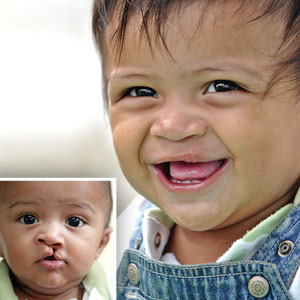 One of the most common and anguish-filled birth defects is a cleft lip or palate (roof of the mouth). Not only do clefts disrupt the normality of a child's facial appearance, they can also lead to problems with chewing, speech and the long-term health of teeth and gums.
A cleft is a tissue gap that occurs during fetal development, usually in the first trimester, in which parts of the baby's face fail to unite. Why this occurs is not fully understood, but vitamin imbalances in the mother, exposure to radiation or other toxic environments, or infections are all believed to play a role.
Facial clefts are classified as either incomplete, in which there is some but not full tissue fusion, or complete, with no fusion at all. A cleft can be unilateral, affecting only one side of the face, or bi-lateral, affecting both sides. During infancy a cleft can adversely affect a child's ability to nurse, and it sometimes disrupts breathing. As the child grows, speech patterns may be severely disrupted and their teeth and bite may not develop properly.
Fortunately, there have been dramatic advances in cleft repair over the past sixty years. It's actually a process that can span a child's entire developmental years and involve the expertise of a number of surgical and dental specialists. For a cleft lip, the initial surgical repair to realign and join the separated tissues usually occurs around three to six months of age; repair of a cleft palate (where the gap extends into the roof of the mouth) between 6 and 12 months.
Subsequent procedures may be needed in later years to refine earlier results and to accommodate the mouth's continuing growth. At some point the treatment focus shifts to cosmetic enhancement (which can include implants, crown or bridgework) and periodontal health, to ensure gum tissues that support teeth and gums aren't compromised by the effects of the cleft or its treatment.
At the end of this long process, something of a miracle may seem to occur: a young person's once disfigured mouth transforms into a beautiful smile. It's a chance for them to gain a normal life — and a new lease on physical, emotional and oral health.
If you would like more information on cleft reconstructive surgery, please contact us or schedule an appointment for a consultation.
By Bethesda Row Dental
April 07, 2015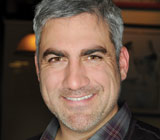 If (heaven forbid) you were to lose your two front teeth in an accident, and you needed to choose a tooth replacement method, which one would you pick? Once upon a time, that question faced Taylor Hicks, the former American Idol winner who now plays a regular gig in Las Vegas. Back then, when he was a high-school basketball star, Hicks happened to receive a blow to the mouth at a playoff game. As fate would have it, he also happened to be the son of… wait for it… a dentist. So what did he do?
The down-to-earth song stylist recently told Dear Doctor magazine how, immediately after the accident, his father administered first aid, getting him back into the game before it ended. Then, a short while afterward, Hicks had the gaps in his smile fixed with dental implants.
We think he made a good choice. While there are other tooth replacement systems, none offer the benefits provided by dental implants. In case you need a reminder, here are some facts about dental implants:
They have the highest success rate of any tooth replacement procedure — above 95%
They are the most durable type of replacement tooth — with proper care, they can last for the rest of your life
They look and "feel" completely natural, and require no special maintenance
They are the only tooth replacement system that essentially stops bone loss in the jaw (a natural consequence of tooth loss), helping to maintain good oral health
Over the long term, they can offer the best value for your investment in dental care
What makes dental implants work so well? Unlike bridgework or other methods, lifelike implant crowns are supported by a screw-like titanium metal insert, which actually becomes fused with the bone of the jaw. This not only provides the prosthetic teeth with a rock-solid anchorage, but it also helps provide the physical stimulation that bone needs to keep itself healthy. Lacking this stimulation, the jaw bone begins to atrophy and erode (melt away) — and if left untreated long enough, it can result in the appearance of premature aging and other oral health problems.
So if you have missing teeth — whether from an accident, disease, or another cause — contact us or schedule an appointment for a consultation, and find out whether dental implants might be right for you. You can learn more in the Dear Doctor magazine articles "Dental Implant Surgery" and "Dental Implants."